Do you love colorful pots filled with gorgeous flowers, but you don't have the time to take care of them? Well, there is a solution for this problem. Some flowers are easier to grow than others, but these flowers don't require the skills of a professional gardener.
If you combine them with a beautiful looking pot, you can get the perfect decoration item in your kitchen, living room, gardens, or any places you might like. Not to even mention that some distinctive looking plants can be great air fresheners.
That is why we believe these 10 easy plants can be an ideal elegant decoration for your home.
1. Aloe

This elegant flower can be great for your desk or shelves. Pick a vase that is small and has a central base. Moreover, aloe easily grows under sunlight, so make sure to place it in a sunny window, or in the gardens.
However, if you don't want it to take a lot of space, make sure to cut the leaves. Plus, keep it away from areas where a lot of people pass. After all, it has some spiky leaves. To grow it, you will need to keep a moderately dry soil
When it comes to watering, make sure not to let the soil dry too much. In winter or autumn, you will need to water it once per week or two times per month, depending on how dry the soil is. So, it won't take much of your time.
2. Peace Lily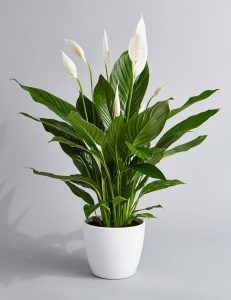 This gorgeous plant doesn't like too much light and humidity, which makes it ideal for decorating your home. Plus, the flowers glow in summer and bloom throughout the year. Besides, even without the flowers, the leaves look breathtaking and give a glossy finish.
It can grow up to 6 feet, so it might take some of your space. Therefore, you need to plant it in a medium size pot with holes suitable for drainage. Water it once per week and drain it well.
However, if it starts to wither, replant it in a different pot and water it every 3 days until it gets back to normal.
3. Snake Plant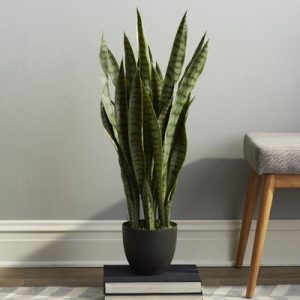 This plant can grow anywhere. You can even ignore it, and it will still grow. But, it will react nicely to good care. Its leaves resemble the skin of a snake and give the home a dramatic look. It smells divine when it blooms, and it won't take too much space.
All you have to do is water it once in a few weeks and keep the soil moderately dry. Lovely, isn't it?
4. Juniper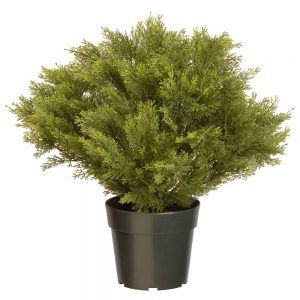 The blue star juniper can grow 3 feet tall. That is why it is best to plant it in the garden. Even though it will take a long time for it to bloom, it stands out in winter with all the elegant branches and color.
Plus, you can leave it under the sun or some shade, but don't place it in places where it is humid. Besides, it doesn't like too much water. Just make sure that the soil is completely dry when you want to water it.
5. Golden Creeping Jenny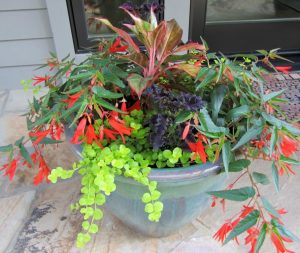 This colorful and vibrant flower can grow so long, that it will spill from the pot. That is why you will need a strong container that can support the weight, but it will look good at the same time. Even though it likes the shade, it requires more watering than the other plants.
Therefore, you shouldn't let the soil dry up.
6. Sunflower

These flowers can grow very tall. So, make sure to leave some space for it to bloom. It loves the sun and water. But it can tolerate a few days without moisture. So, give it a little water every day, but don't worry if you skipped a day.
7. Pansy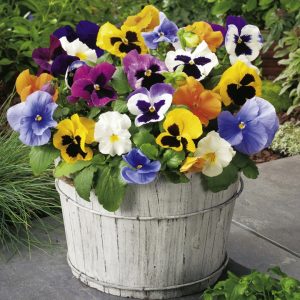 These colorful flowers are favorite among many people. They are easy to grow, and they bloom in the summer. However, don't worry if the flowers fade, more will grow in their place. But, make sure to plant them in a pot with holes, so that you can drain the soil well.
Water them every day a little.
8. Nasturtium
Nasturtiums are easy plants to grow around the house. But, if you mind the spilling from the pots, make sure to sow them around the edges. Besides, you can even use them as a garnish or put them in salads.
Water them regularly and drain the soil.
9. Nigella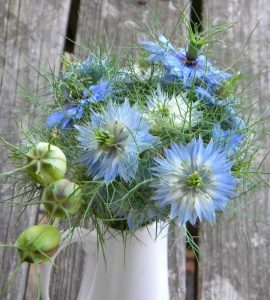 This flower can basically look after itself. It looks gorgeous and can keep on growing after the flowers fade. Simple, easy and breathtaking.
10. Fuchsias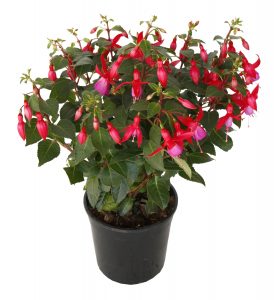 Fuchsias can add wonderful color to your containers. Not to even mention that you can plant them in hanging baskets. This makes them excellent for display and gives a professional look. It only needs a little water every day, not too much.
Make sure not to flood the flower, and it will be alright.
What do you think of these flowers? Tell us your opinions and leave a comment.
Source: Thompson Morgan | Fine Gardening | Midwestliving